Collaboration & Co-creation
We always develop our programmes in close collaboration with our clients. For us, this is the key to true customisation. Together, we design the programme around the client's specific strategic challenges, their specific needs and development ambitions and their unique culture and way of doing things. In the end, this is essential for the programme to deliver lasting impact and results for the client's business.
Unique global network of expertise
Throughout the years, we have built a unique network of the leading expertise and knowledge around the world. This enables us to always bring in the best people to deliver our programmes – whether this is professors from the leading business schools in the world, the leading industry experts or PwC subject matter experts globally. This way, we ensure state-of-the-art knowledge and just the right blend of academic and practical expertise for the specific programme.
Strong competencies and expertise
We have a team of highly specialised expertise and experience within the field of customised executive development programmes. We have a broad range of academic and practical backgrounds but all of us share a strong passion for and experience in creating world-class development programmes – throughout the process of analysis, design, development, delivery and evaluation
Action Learning and the 70-20-10 principle
Having a strong focus on Action Learning, we see the learning activities and processes in between the face-to-face elements as an essential part of an impactful programme. We carefully design processes to enable and support the leaders in taking their new insights and methodologies, applying them into their daily work and sharing experiences with others. This is key to create lasting behavioural change and impact for the organisation.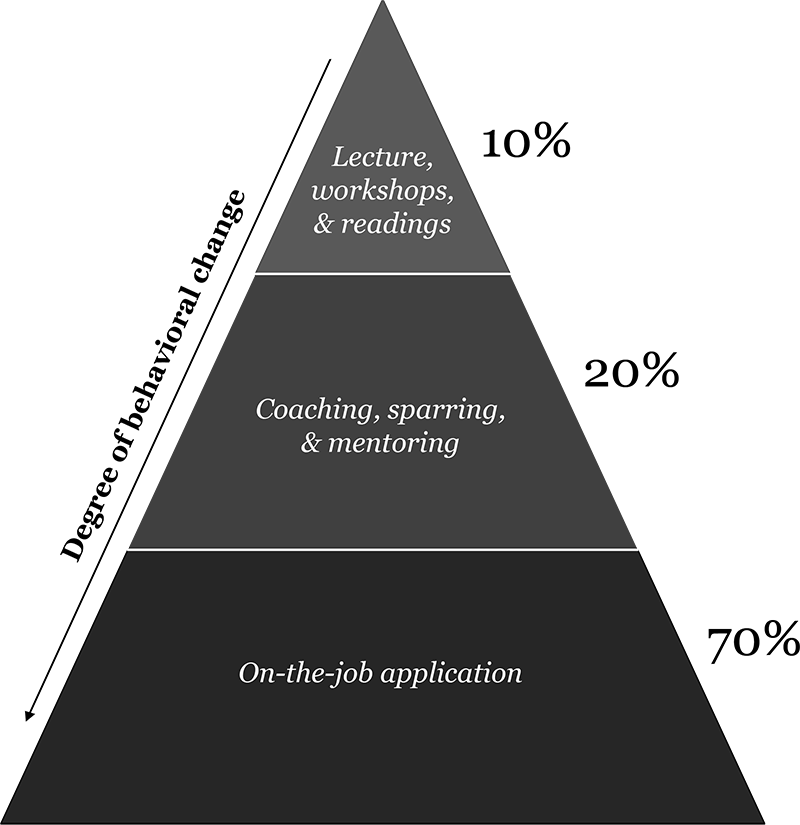 Responsibility and support throughout the process
We always take full responsibility of designing a programme in detail from beginning to end. This means that we carefully design and orchestrate the entire learning journey for the leaders down to the smallest detail; i.e. designing and planning activities and touchpoints in-between modules, monitoring progress and supporting the leaders throughout the programme.
Delivering real business results
For our programmes to be successful, they need not only to change behaviours, but to deliver measurable results for the business. The way we achieve this is by designing the programme around the client's strategic challenges and then having the leaders work with real life business challenges throughout the programme. This enables them to directly apply learnings to a specific challenge to create new and innovative solutions, delivering better results for the business.